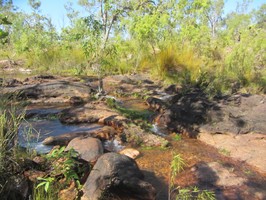 We allowed ourselves a quick winter escape this year, flying to Darwin and spending some days there before heading off in a hired camper to revisit Litchfield, Nitmiluk and Kakadu National Parks – places we had visited with the kids in 1992 (and Katherine Gorge in Nitmiluk also in 1994). Darwin has become a very interesting multicultural city, definitely worth a visit (it was rather underwhelming in 1992).
The weather was wonderfully warm and we had a very relaxing time in general. The camper was just right for the two of us (not sure how you'd ever get five people in there!) and the scenery was as beautiful as we remembered it. We were delighted to see a lot of birds and wildlife and loved the fresh green of the trees contrasting with the straw yellow grasses and the red cliffs and rocks. It was warm enough to swim, though that was not permitted in some places for various reasons (crocodiles and cultural). The crystal clear cool waters at Litchfield National Park were a highlight, as were the sunsets, waterfalls, vistas and peaceful evenings sitting outside.
Photos
Click any photo to enlarge. While enlarged click the left/right side of the image for the previous/next image, or use the left/right arrow keys for the previous/next image. ESC or clicking "close" closes the enlarged view.
Posted on July 23rd, 2015, tagged with events