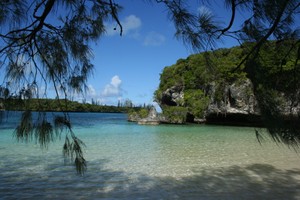 A quick two-week winter getaway beckoned and we decided on New Caledonia as our destination – not too far away; a French-speaking country, so the illusion of being in Europe; tropical climate and varied landscapes; the 2nd longest barrier reef in the world; and a much-needed break from routine.
It was a great choice! We were able to self-cater most of the time and found some nice places to stay (there's not a lot of accommodation in some parts of the island). Our "splurge" was two nights at Le Méridien Ile des Pins (on the Isle of Pines, a short flight from Nouméa), which is as close to a tropical paradise as you can get.
We spent quite a bit of time in and around Nouméa, and hired a car to see much of the rest of the "Grande Terre", the main island, which is over 400 km long and 50 – 70 km wide. We found a lot to interest us in the history, indigenous culture, flora and marine life, and found the locals mostly friendly and helpful. We did some walks, lazed on beaches and spent quiet evenings. The day trip to the reef at the Amedée lighthouse was a good high point to end the trip before flying back to our rather chilly homeland.

View the photos »
Posted on Friday July 4th, 2014, tagged with events | 3 comments