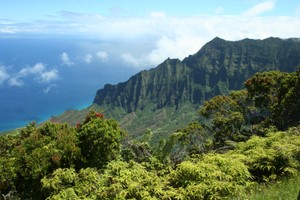 We were in need of a holiday to look forward to, and a stress-free break from our regular routines, and Hawaii came to mind – English-speaking, welcoming to tourists, warm, scenic, only a ten-hour flight. We knew a bit about it – volcanoes, beaches, palm trees, Hawaiian music. The more Pete researched it, the more interesting it became.
It was a wonderful break! Our first day was a bit long – bus to Sydney at 4pm, plane overnight for ten hours, landing in Honolulu, flight on Hawaii Airlines to Kona on the Big Island (also called Hawai'i), pick up car, drive to our condo, shop, cook, eat, enjoy the sunset and finally sleep.
We had seven nights on the Big Island, three in a lovely condo at Kona and four at a delightful airBNB near Pahoa. The western side is mostly very dry. There are old lava flows everywhere, and consequently not too many sandy beaches, but lots to see and do. The eastern side is lush and receives many times more rain than the west, so there's lots of rainforest and waterfalls. And then there are the dormant and active volcanoes, (the two largest dormant ones over 4000 metres in height) with Kilauea, the youngest, still pumping up lava, and for the first time in a few years there's lava flowing into the sea on the southeastern coastline. Spectacular!
Then it was off to Maui, a short flight and drive to our next condo in Kihei on the western side. A lovely long sandy beach fifty metres from our door. There's a dormant volcano there too, Haleakela, over 3000 metres high, but the majority of the lava flows have had time to be revegetated closer to the coastline, and there are quite a few sandy beaches too. The road to Hana is famed because of its lush rainforest, numerous curves and bridges and waterfalls – a day trip, even though it's not that many miles.
To Kauai next, one of the oldest islands, and a comfy apartment a few steps from a small beach in Kapa'a on the eastern side. Day trips to the north, where we did part of the Kalalau Trail along the Na Pali Coast (sensibly stopping at the beach before it got too steep and hairy!) and to the south of the island from where we accessed Waimea Canyon and the lookouts towards the southern side of the Na Pali Coast. Wow!
Finally two nights in Honolulu, at Waikiki, where we were lucky to see the 101st Annual King Kamehameha Celebration Floral Parade. Floral is certainly the word – every vehicle and horse was decorated with gorgeous garlands or arrangements. We walked the length of Waikiki Beach (rather narrow in places), and enjoyed the beautiful mild evenings before heading back, refreshed, to rather colder climes!

View the photos »
Posted on Tuesday July 11th, 2017, tagged with events | comments disabled