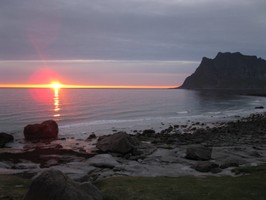 Having visited Norway in July 1975 as part of our big overseas trip, we were keen to travel there again, as it held such strong memories for us. We'd loved the countryside for its spectacular scenery and variety, and its wild, rugged and underpopulated feel. We had met our friends Kym and Sue in Oslo and spent a good two weeks travelling around with them, punctuated by breakdowns of our Commer van (a lemon if ever there was one) and the necessity to all fit into one van – cosy! So this time we vowed we'd have a reliable vehicle at least.
Mike and Meg were happy to join us for the adventure, and we had fun fitting the four of us, plus camping gear and lots of food into the relatively small Renault Megane. It was a red letter day when we could reduce the number of duffel bags in the middle of the back seat from two to one! We set off from Kiel and were able to leave some stuff at Emmy's, or we would never have fitted. Our route took us through Denmark (stopping only for lunch) and up the Swedish coast. By Day 2 we were at Odda, after a wonderful drive across the southern part of the country through green spring countryside, towns, tunnels, forests, past thundering waterfalls and along half frozen lakes, up into snow country and back down to fjord level. This pattern continued as we explored the fjords and coast. The scenery was often awe-inspiring, and we were impressed by the roads with their numerous tunnels, bridges and ferries tying the country together.  We camped when the weather looked OK, and stayed in a Hytte (cabin) when it looked like rain.
As we headed further north from Trondheim it got colder and starker, less spring-like and more like winter. (We certainly beat the rush, tourist-wise!) The Lofoten islands, past the Arctic circle were our northernmost point,and here we were lucky enough to see the midnight sun -a very special moment! We also brought out the down jackets and woolly hats. On our way back south we headed across to the Swedish Baltic coast and visited the famous High Coast or Hoga Kusten (still rising after being weighed down by huge glaciers in the most recent Ice Age) and then inland past lakes and forest back through Denmark (stopping once again for lunch) to Germany.

View the photos »
Posted on Wednesday November 9th, 2011, tagged with events | comments disabled