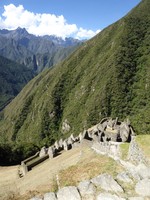 When we planned a Peru trip for 2012, we didn't anticipate that family health problems would prevent one of us from going, but that is what happened in the end. So ever since 2012, it's been Pete's firm intention to go back to Peru with Kathy, and this year looked like the year. In the end, we left behind both our mothers with health problems, but our families filled the gap and held the fort while we had a truly memorable holiday.
Peru is a fascinating country: large, Spanish-speaking (plus a few indigenous languages) and with an impressive variety of landscapes, from the arid coastal strip to the spectacular mountain ranges and highlands, and the dense jungle further east. Much of the country is at high altitude and is farmed for whatever crops and animal products are viable. Then there is its turbulent history from Pre-Inca through Inca times, followed by the Spanish invasion and colonisation and finally independence in 1821. The country has suffered and continues to suffer from considerable governmental corruption and mismanagement, and yet the Peruvians are warm and welcoming to visitors.
We opted to have a tour organised for our needs, with tour guides, accommodation, meals and travel mostly pre-arranged, which is different from our usual mode of travel and took a bit of getting used to. But we found it reassuring, as our Spanish is rudimentary at best, and we also enjoyed the free evenings when we were able to do our own thing.
Our trip took in some sights that were new to Pete, such as the Sacred Valley near Cuzco, Rainbow Mountain, Arequipa, Colca Valley, Puno, the islands of Uros and the Santa Cruz trek, and included some Peruvian essentials he'd seen, such as Cuzco, Machu Picchu, and the Cordillera Blanca near Huaraz. Here are some of the many photos we took as we explored parts of the country.

View the photos »
Posted on Thursday July 11th, 2019, tagged with events | 2 comments