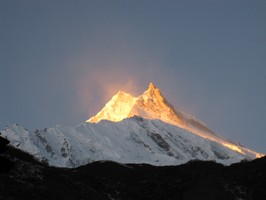 A group of eight family and friends – ourselves plus Ange, her boyfriend Rohan, and four friends around our age (Fred, Andrew, Sue and Tina for those that might know them) had signed up for this adventure. After almost twelve months of planning, reading, organising, worrying (some of us!), accumulating gear and training, we left on 7 November for Kathmandu and started the trek on 11 November after a couple of days sightseeing and making final arrangements in Kathmandu (where there was also the saga of the wrongly dated visa for one of our party to be sorted out!)
We had chosen a remote and challenging area to visit – the Manaslu Circuit to the west of Kathmandu. The trek involved 16 days of walking, starting at Arughat, 500 metres above sea level and ascending to the Larke La (pass) at 5130 metres before returning to around 800 metres again – with barely a piece of level ground anywhere along the way! It is without a doubt the most adventurous and unforgettable thing we have ever done. There are so few places to provision along the way that our crew consisted of 26 porters, five cooks and five sherpas.
Everyone completed the circuit without major difficulty or the intervention of helicopters and survived the cold and lack of oxygen at the high altitudes. Along the way we followed steep river gorges, saw terraced fields, scores of waterfalls, beautiful forests, 8 000 metre mountains, glaciers, monkeys, donkeys, yaks, more dung than you could think possible, primitive Buddhist villages, adorable (but snotty) children and barely twenty other Westerners (until we joined the very popular Annapurna Circuit, near the end).
Finally we had a few days R & R in Pokhara, which included several hot showers,a day of golf (memorable), some gift shopping, wining and dining and, for some, sunrise over the magnificent Annapurna Range, before returning by bus to Kathmandu.
We will always have a special admiration for the hardy, friendly, gentle Nepali people in our crew who dedicated themselves to ensuring our safety and enjoyment throughout the trek. All in all an unforgettable journey.

View the photos »
Posted on Saturday January 2nd, 2010, tagged with travel | 8 comments