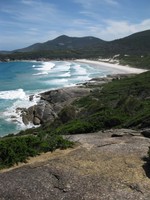 In mid-November we took a week to mosey down the coast from Merimbula to Wilson's Promontory before heading to Phillip Island and Melbourne. The weather was lovely and we took the opportunity to camp some of the time and see some places we hadn't visited before or not for a long time.  Some we are going to have to visit again! First stop was Ben Boyd National Park – we explored the section south of Eden. Just loved the spectacular red rocks, beautiful coastal scenery and lush vegetation. We had a few wildlife encounters as you will see in the photos!
Then a drive down the Pacific Highway to Cann River, where we turned south to Point Hicks, the first point on the Australian mainland spotted by Captain Cook's crew in 1770. Apart from the lighthouse it probably hasn't changed much- a lovely stretch of coast! Drove to Marlo that evening and the next day headed inland to Buchan, famed for its limestone caves, which didn't disappoint. We also checked out the Snowy River, flowing impressively after a major release of water from Lake Jindabyne.
On to Paynesville, from where we headed west, then southwest the next day through beautiful Tarra Bulga National Park (wonderful rainforest, thankfully spared by the 2009 bushfires, unlike the country that we drove through to get there, still scarred and bare.) Finally west and south again to Wilson's Promontory, also just recovering from disaster, but this one a devastating flood early in 2011 that meant much of the park was still out of bounds. However the campground and beaches were accessible and we spent two very pleasant days walking and enjoying the scenery. However, we were a bit taken aback by the behaviour of a local wombat who thought it was quite OK to break into our tent at 2 am and get into our food containers. He wasn't exactly inclined to leave, either! The next night we withdrew to a cabin. We will pay more attention to warnings about wombats in future!
We headed west to Phillip Island after that and spent quite a bit of time at the Rookery, Woolamai beach and Churchill Island heritage farm, but the highlight was the Penguin Parade, watching hundreds of little penguins returning from 3-4 days at sea, waddling up the beach in tight-knit groups and dispersing amongst the sandhills. Very cute! We were the last to leave. Unfortunately you aren't allowed to photograph the penguins so no photos for the blog. Finally we headed to Melbourne to stay with the fam and celebrate a Significant Birthday, stopping briefly for a look at Cranbourne Botanic Garden on the way (not quite finished but very impressive!)

View the photos »
Posted on Saturday January 7th, 2012, tagged with travel | 2 comments