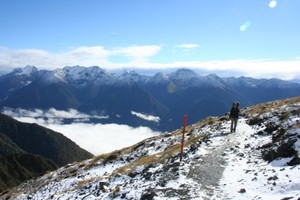 A quick two-week getaway to New Zealand's glorious South Island. We had wanted to do the Kepler Track for some years and thought the sooner we did it, the better. It's a stunning track in good weather, and we were lucky that for us the second day was perfect conditions. In rain, wind or worse it would be very challenging indeed! The views were wonderful in all directions. The descent at the end of the day was rather a killer, though. It seemed endless and it took some days for our toes to recover. Of course you can never guarantee the weather so we had all the gear and only needed some of it (better than the other way round!). The huts were very cosy, as always. Thanks to the wardens who had a nice fire going in the common rooms when we arrived, though the bunk rooms were very chilly! There were lots of families with kids, and European backpackers – made for an interesting experience.
We bookended our hike with visits and walks in Christchurch, Akaroa, Wanaka, Arrowtown, Queenstown, Mt Cook and Kaikoura. The autumn colours were gorgeous (all introduced trees, but no complaints). A lovely break.
Photos
Click any photo to enlarge. While enlarged click the left/right side of the image for the previous/next image, or use the left/right arrow keys for the previous/next image. ESC or clicking "close" closes the enlarged view.
Posted on June 4th, 2013, tagged with events