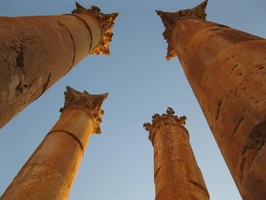 Our latest adventure was a trip to the United Arab Emirates, Oman, Greece and Jordan for a month in November. We have wonderful friends in Dubai with a magnificent house and guest room so their place became our base for seeing Dubai, Abu Dhabi, Sharjah and the northern part of Oman, and from which we headed off for longer forays to Greece and Jordan.
Dubai has to be seen to be believed. Everything is on a grand scale and thankfully some of the crazier projects have been put on hold as a result of the global financial crisis. Still, it is like a city on steroids, like something out of a science fiction movie. Lots of interesting, unusually shaped high-rise buildings, an ultra-modern above-ground railway, an indoor ski slope (!) and malls that look like palaces. There is still an old part of town near the Creek, with its port and spice, textile, gold and other markets – fascinating! The Burj Khalifa, currently the highest building in the world, is an elegant spire, quite breathtaking in its beauty.
A highlight of Abu Dhabi was the amazing Sheikh Zayed Bin Sultan Great Mosque. It is a magnificent building and no expense has been spared in embellishing all its surfaces with the intricate patterns so typical of Muslim architecture. There are plans for a major cultural centre at Abu Dhabi, including a Guggenheim Museum, Louvre, Performing Arts Centre and Maritime Museum, which will make it a magnet for tourists in the years to come.
We enjoyed the wild coastal scenery of the Musandam Peninsula in Oman from a tourist dhow we had all to ourselves and Suesy took us "wadi-bashing" up a rocky and inhospitable gorge. In Sharjah we took in the Museum of Islamic Civilisation and the Blue Soukh as well as a traditional courtyard home and school, preserved as museums.
We'd visited Greece in 1975 and this time around we found that some things had changed and others hadn't. There are still a lot of ruins! In Athens they're still restoring the Parthenon and other buildings on the Acropolis, but have completed a magnificent new Acropolis Museum down below – truly outstanding. We visited several museums in Greece and found that just about all of them are watched over by middle-aged lady attendants who spend the whole time talking (loudly) on their mobile phones. Most annoying!!
Athens was fascinating – we stayed in Monastiraki, near the Acropolis- and we were surprised to see how many tiny little shops there still are in the narrow streets. We enjoyed shopping at the food markets and walking or catching the new Underground to the various sites.
Then it was off to the Pelopponese – Mycenae (Mykenai), with its magnificent Lion Gate (sans lions) and impressive walls , a lovely little village called Dimitsana overnight and then through many more picturesque villages to Olympia. Alas the Olympic Games site from antiquity was closed due to elections (Bah!). Back through more rugged and scenic country to Nafplion – a beautiful historic town, at one time Greece's capital, situated on a wide bay. The next day we looked at the theatre of Epidaurus before driving to Delphi – what a beautiful setting on the slopes of Mt Parnassus! Spent many hours looking at the remains of the temples, treasuries, stadium , gymnasium and theatre there, and the museum, before driving to Meteora, much further north. Here there was a magnificent sunset over the monasteries perched on their granite tors, but alas, the next day the whole area was shrouded in cloud.
Back to Athens and a flight to Crete, where we stayed at Archarnes near Heraklion (in a lovely restored old courtyard apartment), visiting the Minoan palaces of Knossos and Phaestos, the Archaeological Museum and driving through the truly picturesque autumn countryside, full of orchards, vineyards and olive groves. Crete as a whole is rather rugged and the southern coastline particularly so. Chania in the northwest is a beautiful historic port; we stayed a couple of nights near the cathedral in the town centre and wandered the streets on foot (not really a place for cars!)
We returned to Dubai to regroup and spend a lovely day and evening with our friends before flying to Amman, for the last leg of our trip. We met our very friendly and competent driver /guide Wa'el and after a night in Amman, set off on our seven day tour of Jordan. Highlights included Salt, the Jordan Valley, Umm Qais with its view to the Sea of Galilee and the Roman ruins of Gardara, Jerash (another Roman town spectacularly preserved), three massive castles from Crusader times perched on steep arid hilltops (Ajlun, Kerak and Shawbak), the churches of Madaba and Mt Nebo with their early Christian mosaic floors, the Dead Sea (where you can float without effort and have mud baths!), Wadi Rum with its spectacular desert scenery.
But the jewel of the tour, of course, was Petra. What an amazing place! Everyone has seen pictures of El Khazneh (the so-called Treasury) which is a breathtaking sight at the end of the gorge known as the Siq, but there is so much more to explore beyond, a whole city in fact (mostly hollowed out or built by the Nabataeans and later added to by the Romans.) And the cliffs are such spectacular colours and patterns! We could easily have spent longer than the one and a half days (including one evening) that we had allowed. Alas, it was not to be. Back to Amman, Dubai, Brisbane and home to the greenest we have ever seen this part of the world – full dams and lush growth- lovely!

Photos
Click any photo to enlarge. While enlarged click the left/right side of the image for the previous/next image, or use the left/right arrow keys for the previous/next image. ESC or clicking "close" closes the enlarged view.
Posted on April 5th, 2011, tagged with travel