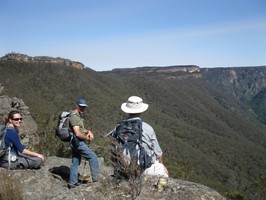 Our need to get fitter and accustomed to walking up steeper and steeper hills inspired us to schedule a weekend at Kanangra-Boyd National Park with Ange and Rohan, Fred and Andrew. An excellent choice. Most of us hadn't been there before – fortunately Andrew had, as the area is not for the navigationally challenged! We camped at Boyd River crossing and had the luxury of the campground shelter more or less to ourselves, complete with roaring fire.
Saturday's hike involved following the ridge walk along the plateau, down a rocky gulch, along underneath steep rock walls on sometimes very loose ground, up and down steep ridges to a restful lunch spot at Gabe's Gap. The weather was unseasonally warm and the views were amazing, wilderness in all directions. We turned around and were well and truly tired by the time we got back. But a barbecue dinner, a drink or two and Tina's magnificent carrot cake revived us.
On Sunday after packing up we walked to the base of Kalang Falls, scrambled a bit down towards the main falls, then hiked past the Dance Floor cave and on up to the Plateau walk, heading south this time, but with insufficient time to descend to the Kowmung River – some other time perhaps! Another warm day with a very strong wind, which made us avoid cliff edges. Lunch at the car park before we parted ways and headed home. A fun weekend. Thanks to Andrew for organising it and leading us along the right paths, and to all participants for their good cheer and good company!
Photos
Click any photo to enlarge. While enlarged click the left/right side of the image for the previous/next image, or use the left/right arrow keys for the previous/next image. ESC or clicking "close" closes the enlarged view.
Posted on September 16th, 2009, tagged with events