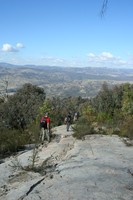 2009 is going to be the year of the hike, as we try to get our legs and bodies in a condition to trek in Nepal for 3 weeks. So far we have done some lovely hikes – to Camelback Ridge in Tidbinbilla reserve, up (and down) Mt Taylor (many times already), to Mt Ainslie, up and down Mt Tennent, and to Gibraltar Rocks in Tidbinbilla, with most of our friends from the trekking party.
There'll be many more of these outings, and lots more photos taken – it's a good excuse to stop for a breather occasionally, I've found!
Photos
Click any photo to enlarge. While enlarged click the left/right side of the image for the previous/next image, or use the left/right arrow keys for the previous/next image. ESC or clicking "close" closes the enlarged view.
Posted on May 11th, 2009, tagged with travel