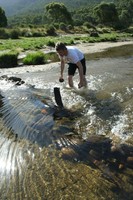 An unpleasantly hot weekend awaited Canberra after an unpleasantly hot week, and so we were looking forward to our annual family mountain weekend to provide some relief. But it would prove to be pretty hot up there too!
We had decided on Thredbo Diggings as our base, a lovely campsite just next to the Thredbo River. Our previous attempt to camp there had been in November 1983, when it had rained ceaselessly and we'd finally decided to head home when the kids didn't have any dry clothes left, only to discover it was sunny and clear about 5 km down the road!
This time, however, it was clear and hot, so hot that all we really wanted to do was swim in the river! But we had to do at least something energetic, so on Saturday morning we took the chairlift up from Thredbo and walked through the high Alpine landscape to the edge of the Ramshead Range, for a wonderful view into Northern Victoria. It was very windy up there and the ground was very dry.
Returning to the campsite at about 3, we spent the rest of that day and most of Sunday at or in the river, building and rebuilding weirs, paddling the boat and keeping cool. Very refreshing! After lunch on Sunday, we  packed up reluctantly and headed home after one last swim.
Photos
Click any photo to enlarge. While enlarged click the left/right side of the image for the previous/next image, or use the left/right arrow keys for the previous/next image. ESC or clicking "close" closes the enlarged view.
Posted on February 25th, 2009, tagged with events