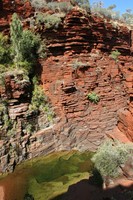 After hitting an unfortunate kangaroo near Hay and having to return to Canberra (see the previous post), we left the Pajero to be repaired and a few days later flew to Perth, where we hired a car, determined to have our Western Australian holiday anyway! And we are so glad we did! It is such a beautiful state, with so much variety of scenery and vegetation. We were lucky to have good weather just about everywhere.
We started our journey by heading up the Great Northern Highway through Mt. Magnet and Newman, watching the country quite quickly change from lush green fields to dry red-soiled plains, and regularly overtaking massive trucks with wide loads on their way to the mines. Our destination, Karijini National Park, is an absolute gem (at no. 1 on the map below), with stunning gorges cut deep into the plateau, featuring cool flowing creeks edged with gums, paperbarks and bright green grass beneath high red cliffs, narrowing into canyons with hidden pools. Some of these are quite a challenge to negotiate, others more accessible, but all beautiful and unique. We stayed here four days before reluctantly leaving for the coast, which we then followed south all the way to Perth and beyond, with a few deviations.
We enjoyed exploring Ningaloo National Park near Exmouth (2 on the map) with its fringing reef very close to the shore, bright white beaches and clear aqua sea, and a highlight was a whale-watching trip where we saw several pods of humpback whales, one of which even waved goodbye to our boat as we left. At Coral Bay we looked at the coral through a glass-bottomed boat. Further south at Shark Bay (3) we saw stromatolites (an extremely ancient but not terribly attractive life form) at Hamelin Pool, a vast beach consisting solely of tiny white shells, and dolphins being fed at Monkey Mia. From here on south we encountered patches of multi-coloured wildflowers by the road for several hundred kilometres- stunning!
We did our first long hike at Kalbarri (4), following a loop in the Murchison River along a colourful gorge. We saw many interesting flowering shrubs here and further on – the region is a "biodiversity hotspot"! After Geraldton we did a bit of meandering in our attempts to see as many wildflowers as possible. A highlight was Lesueur National Park (5), a botanist's paradise. We also visited the Pinnacles (6) at sunset when the shadows make this interesting landscape even more photogenic.
South to Perth and Fremantle, where we stayed for four days, visiting the sights and spending a day exploring Rottnest Island on bikes. Perth is a beautiful city and Fremantle has a lot of historic buildings and great fish and chips! Leaving Perth, we headed toward the Southwest region (7) on a rather cool windy day, exploring the coastline at Cape Naturaliste, the majestic karri forests and passing many vineyards. Heading west through more of the tall forests we encountered more cool rainy weather which cleared by the time we got to Albany.
The coastline near Albany features smoothly rounded granite outcrops, white sandy beaches and deep turquoise water, with jutting headlands covered in interesting flowering shrubs, including the biggest banksia we have ever seen! Leaving Albany we visited the Porongorup Range (also granite) before continuing on to the Stirling Ranges (8) a short distance further north. Here we climbed Bluff Knoll (tallest mountain in the Southwest) and Mt Hassell, and admired the amazing range of colourful flowering shrubs as we climbed.
Finally we drove back north towards Perth, stopping to admire the Dryandra Woodland Reserve north of Narrogin and to visit Albert Facey's house at Wickepin (his autobiography "A Fortunate Life" tells what life was like as this country was just being opened up, early last century.)
After a concerted effort to wash the remaining red dust off the car and give away some of our acquired camping gear, we flew back home, determined to come back again to WA, see the bits we missed and revisit some of our favourite spots again in the not-too-distant future!
Photos
Click any photo to enlarge. While enlarged click the left/right side of the image for the previous/next image, or use the left/right arrow keys for the previous/next image. ESC or clicking "close" closes the enlarged view.
Posted on September 29th, 2008, tagged with travel