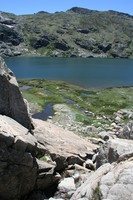 Just after Christmas, those of the family who weren't gadding about elsewhere went to Jindabyne for a few days, to reacquaint ourselves with the Snowy Mountains in summer. Mum hadn't been there for a while and we spent three fine days visiting old haunts. On Day One we all went to the top of the chairlift at Thredbo, and Teepar, Stephan and Jess did the walk to the top of Mt Kosciuszko while Kath and Mum admired the flowers and the scenery at our own pace. On Day Two, Mum and Stephan and Jess had a look around new and old Jindabyne (and watched a bit of cricket) while Kath, Pete and Teepar, and a lovely young lady we met on the way, did the walk to Blue Lake and back via Hedley Tarn. On the last day (a pretty hot one!) we all went up to Charlotte Pass, Spencer's Creek and Sawpit Creek to enjoy the views, the wildflowers and the crystal clear streams before heading back home.
We stayed in a lovely multi-level townhouse on the hill in Jindabyne with great views of the lake. Our spare time was spent preparing food, eating, chatting, watching (what else?) "Jindabyne", watching cricket, reading, sitting on the balcony, playing Scrabble (a close one!), eating some more and finally sleeping. A very pleasant way to spend a few days!
Photos
Click any photo to enlarge. While enlarged click the left/right side of the image for the previous/next image, or use the left/right arrow keys for the previous/next image. ESC or clicking "close" closes the enlarged view.
Posted on January 14th, 2008, tagged with travel