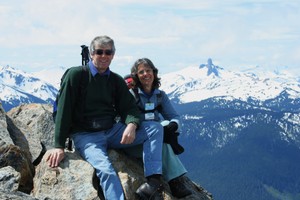 In June and early July, 2007, Pete and Kath spent almost six weeks travelling around British Columbia and western Alberta in Canada and Montana in the USA.
Our friends Bob and Jane lent us a 1992 Mazda truck whom we affectionately called "GJ". Loaded up with borrowed camping gear, we headed from Vancouver Island (Nanaimo, to be exact), to Victoria and the wonderful Butchart and Abkhazi Gardens and then to the mainland, driving close to the 49th parallel till we crossed to the USA and headed down to the magnificent Glacier National Park in Montana. Wow!
We followed the Rockies north to Waterton NP in Canada, detoured via Head-Smashed-In Buffalo Jump (really!) and Calgary and then rejoined the Rockies in Banff National Park, where we walked and drove and marvelled and took many many photos ( a small selection below!) Then along the glorious Icefields Parkway to Jasper National Park after which, reluctantly we had to move on. Through Mt Robson Provincial Park (highest mountain in the Rockies) and NW to Prince George and Prince Rupert. More snowy mountains, green meadows, wildflowers, full rivers and some rainy weather.
East back through Prince George, then southwards to Wells Gray Provincial Park (beautiful waterfalls). Further south to Glacier National Park (British Columbia – not to be confused with the one in Montana) where we had the best weather of our trip and made the most of it . Four half-day walks to as many views as we could get (still too much snow to go all the way, unfortunately!) Finally we headed back to Nanaimo via Lillooet, Whistler (loved it!), Vancouver and Victoria (the Butchart Gardens again).
We had changeable weather in general, but were lucky enough to see most of the mountaintops, the Rockies with lots of snow still on them, lovely wildflowers, green meadows, emerald or aqua rivers and lakes full of water, 12 bears(all from the car window, thankfully!), 2 moose (mooses?), elk, deer and lots of loveable squirrels, ground squirrels and chipmunks, even some hairy marmots and a pica! And we had fine weather for most of the really scenic mountain areas. Our last few days in Nanaimo were real summer at last – almost too hot! Our gratitude goes to Bob and Jane and their family for their great hospitality. What a lovely country! Great people, brilliant scenery! We'll be back.
Photos
Click any photo to enlarge. While enlarged click the left/right side of the image for the previous/next image, or use the left/right arrow keys for the previous/next image. ESC or clicking "close" closes the enlarged view.
Posted on July 28th, 2007, tagged with travel