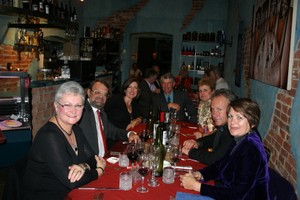 On 18th – 20th May 2007, our band of friends gathered for a "weekend away" in the grand tradition. Most of the group arrived on Friday, dining at night at the Tuileries Restaurant.Four more came on Saturday to join the merry gang for a guided afternoon wine-tasting tour of four vineyards, followed by a magnificent meal at Beaumont's Cafe.
Photos are from this wonderful repast, and afterwards at the Poacher's Paradise Pub, from whence we meandered to our beds rather late.
Golf the next day for four keen sportsmen; others headed home (Canberra, Sydney, Melbourne) at various times after fond farewells.
A great time was had by all – we must do this more often!
Photos
Click any photo to enlarge. While enlarged click the left/right side of the image for the previous/next image, or use the left/right arrow keys for the previous/next image. ESC or clicking "close" closes the enlarged view.
Posted on May 25th, 2007, tagged with events