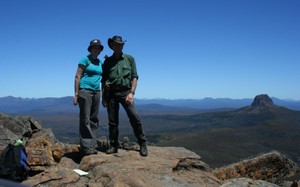 To celebrate Kathy's retirement in November 2006, we decided on a trip to Tasmania. Ange and her friend Carrie joined us (they'd also shared our NZ adventure) and stayed on afterwards, completing the Overland Track from Cradle Mountain to Lake St. Clair after we left.
We took the Pajero and crossed (smoothly, thankfully) to Devonport on the Spirit of Tasmania. First we headed west along the northern coastline, visiting some lovely gardens and enjoying some beautiful coastal scenery. No camping here – it was too cold! After a few days we headed east (via some interesting side roads) to Launceston to pick up Carrie.
Our first overnight hike was at Freycinet National Park on the east coast, an absolutely beautiful walk, along beaches, over mountains and through bush full of wildflowers, with views to the spectacular coastline on much of the return journey.
On through Sorrel (visiting friends at their fabulous B&B), and through Hobart south to Cockle Creek (where some really serious hikes begin and end!). Back north to Port Arthur, where we did our second overnight hike from Fortescue Bay along another stunning coastline of precipitous basalt cliffs (or was it dolerite?).
Through Hobart again, visiting friends Liz and Leigh, then to Mt Field and the Franklin-Gordon Wild Rivers National Parks. Beautiful weather and lovely scenery. Then west through Queenstown to Strahan, and north to Cradle Mountain. Here we provided moral (and logistical) support as the girls packed and headed off on the Overland Track. We accompanied them as far as Cradle Mountain on a beautiful sunny day, before parting ways.
Back to Canberra for us, and six days of adventure for the girls through all weathers and with interesting companions. I've included a few of their photos but if you want more, you'll have to ask them! Tassie is a lovely place to travel, so compact and so varied in its landscapes, and with a real sense of history as well. We'll be back!
Photos
Click any photo to enlarge. While enlarged click the left/right side of the image for the previous/next image, or use the left/right arrow keys for the previous/next image. ESC or clicking "close" closes the enlarged view.
Posted on December 8th, 2006, tagged with travel