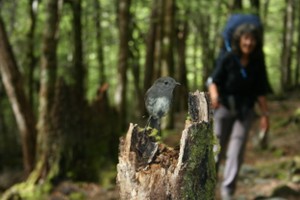 Pete, Kath, Ange and her best friend Carrie spent a lovely month in New Zealand, revisiting (for some of us) some much-loved places, and seeing many beautiful new ones.Highlights of the trip included the Tongariro Crossing in Tongariro National Park, a spectacular day walk up past volcanoes, still fuming volcanic craters and crater lakes and back down down down through grassland and forest.. It started snowing at the halfway point — glad we brought all our gear!
We visited cousins Uta, Michael and Barbara in Wellington before crossing to the South Island where two beautiful hikes awaited us; the Queen Charlotte Track north of Picton, 71 km over four days along the ridgeline between two sounds, and further south, a week later, the Routeburn and Greenstone Tracks, through the beautiful unspoiled alpine scenery between Lake Wakatipu and the Milford Sound Road.
Another highlight was a helicopter flight from Twizel over the Mt Cook region — NZ's highest mountain, glaciers, hanging valleys, lakes, mountain ranges, all from above and up close — unforgettable! We finished that day with a walk up to the mouth of the Hooker Glacier in lovely sunshine. Return to Christchurch via the southern end of the South Island, and home just in time for Christmas!
Photos
Click any photo to enlarge. While enlarged click the left/right side of the image for the previous/next image, or use the left/right arrow keys for the previous/next image. ESC or clicking "close" closes the enlarged view.
Posted on December 1st, 2005, tagged with travel