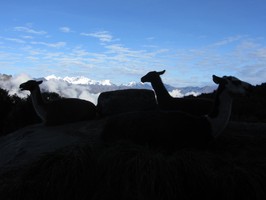 In May, Peter, Stephan, Ange and Rohan flew to South America for six weeks of adventure in Peru and Bolivia. We arrived in Cusco, Peru, and spent three days there acclimatising to the altitude (3,400 metres) and enjoying its lively tourist scene. Then we went on a 7-day trek, first around the enormous mountain Salkantay and then joining the Inca Trail to Machu Picchu. This longer version of the route to Machu Picchu puts you half a day ahead of the other 500 people who walk the Inca Trail each day, and ensures you have peaceful walking and choice of the best campsites. Highly recommended. We had two days at Machu Picchu, which was good planning as the first day was rather wet. The second day was much better and it was a fascinating and memorable experience to be at such a legendary place.
Not content with one trek, we then travelled to Huaraz in the heart of the Peruvian Andes, the Cordillera Blanca, and started a second, 10-day one, called the Alpamayo Base Camp trek. This took us into the most beautiful wild scenery you could imagine, with jagged mountains, glaciers, lakes and green valleys with abundant wildflowers. It also took us over no less than eight high passes, between 4,400 and 4,860 metres, where the thin air made it very challenging. The main highlight was seeing the almost perfect, pyramidal, ice-creamy summit of the mountain Alpamayo (5,947 metres) lit by the sunrise, but on this trek, every day is a highlight.
For a complete change, the next destination was Iquitos, in northern Peru, from where we took a speedboat three hours up the Amazon River and then along a small tributary to Muyuna Lodge, an intimate retreat with thatched huts on stilts in the jungle. Here we spent three days on excursions by foot, boat or canoe into the rainforest or the wetlands, seeing caimans, dolphins, monkeys, sloths, iguanas and all manner of birds. We even caught (and ate, in Peter's case at least) some small but still toothy piranhas.
We then flew to La Paz in Bolivia, an extraordinary city that grows out of a canyon and up to over 4,000 metres above sea level. It's also worth visiting for its llama steaks and beautifully colourful textiles, including alpaca wool clothing. From here we visited Lake Titicaca, staying for one night on the Isla del Sol, where we stumbled upon a local festival with people drinking and dancing and wearing costumes that you'd need to be drinking to consider wearing.
The last part of the trip involved a 20-hour journey by local bus and train to Tupiza, in southern Bolivia, from where we took a five-day tour by 4WD into the remote and other-worldly landscape of the southern Bolivian altiplano. Here, in a cold and windswept volcanic world , we saw lakes of green, red, blue, black and silver, deserts of red, orange and sulphur, rivers frozen with ice, bizarre rock formations, the world's largest salt pan…. and pink flamingos. We also descended into a 300 year old Spanish silver mine, visited a cave with 500 year old mummies and stayed in a hotel made almost entirely from salt. You don't write a list like that every day!
Photos
Click any photo to enlarge. While enlarged click the left/right side of the image for the previous/next image, or use the left/right arrow keys for the previous/next image. ESC or clicking "close" closes the enlarged view.
Posted on July 8th, 2012, tagged with travel